Amazon Enhanced Brand Content Designer (EBC)
Hire an Enhanced Brand Content Designer at Aycock Designs today!
After dealing with Amazon on the seller side as a digital marketer for over a year and seeing how Amazon announced its Enhanced Brand Content to sellers, we've decided to make it easy for sellers to get Enhanced Brand Content designed. It's where you can showcase powerful branded images that can tell a story about your business and/or brand. Read more below about why you need an Enhanced Brand Content Designer.
It's no secret that visual content grabs people's attention. Amazon's Enhanced Brand Content is the perfect way to get a leg up on the competition. This will allow you to stay consistent with your branding across each channel you use to sell your product.
Take the Guess Work Out of It
We know the exact dimensions of each Enhanced Brand Content template and can instruct you on how to set it up. All you have to do is send us a link to your website and a link to the product that you want your Enhanced Brand Content Designer to make content for.
Answering Important Questions
Even though Amazon offers a question & answer section on each product detail page, sellers have very limited control over those. You may reply, but you can't post your own questions. That's why it's important to us that we make sure to answer the most frequently asked questions and make sure to clear up any confusion they may have within the brand content itself. Consider it much like an infographic you'd find on Pinterest.
It's Free to Publish Enhanced Brand Content
At the time I'm typing this, Enhanced Brand Content is free for Amazon Sellers. At some point, Amazon could charge sellers a fee to have EBC on your products, but as for now… it's free! ** PRO TIP: Enhanced Brand Content takes the place of your normal Description section. To include the same information, make sure to copy and paste that into the Enhanced Brand Content text section. Here's an example of some enhanced brand content (link to product shown below):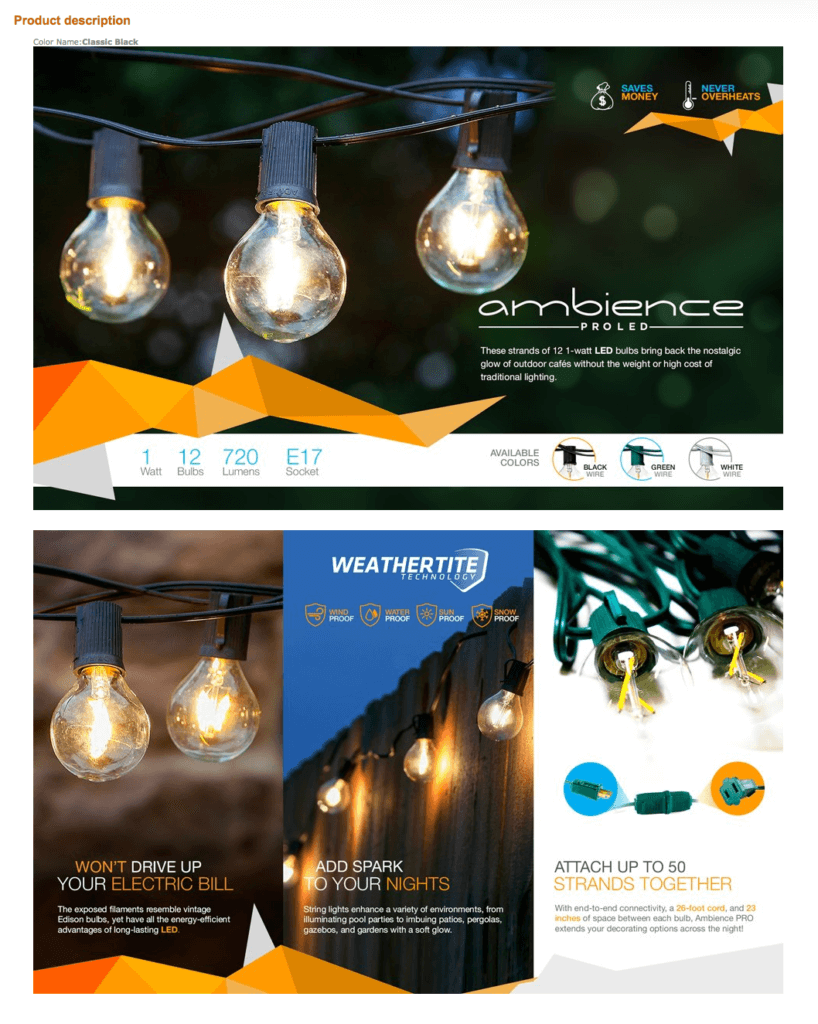 What's Included:
A finished JPG file that accurately represents your product and brand in a professional and attractive way
Unlimited revisions (within reason) – We want you to be happy with the design, that's why we will make changes to versions you're not happy with until you can be proud of the design.
Work from an experienced Amazon Seller (US, CA, and UK) and designer that understands brand story, graphic design that looks good and actually sells, and ranking on Amazon (SEO).
A first draft within 7 business days delivered to you via email
** We will not write your product description for you.

What We Need From You to Get Started:
A total payment of $80 per design – 50% required to get started. The remaining balance needs to be paid after you get your first draft. Payments will be made via a PayPal invoice
Examples of other EBC or styles you love or that you want to mimic (if you have any)
A link to the product page(s)
A link to the brand website (if you have one)
Photos, logos, images, and any graphics you have that you want to go on your EBC design. The more text we use, the worse it will look. The more photos (and lifestyle photos) you have, the better it will look.
Include point you'd like me to focus on
You will be in charge of uploading the design to Amazon. If for whatever reason they reject it, you can let us know the reasons they say why and we'll make the necessary changes and send the revised design back to you so you can submit the design again. Submitting the design for EBC is easy and only takes a few moments. We feel that Template 5 (of Amazon EBC) is the best to use as it covers the most area/screen. The dimensions of this template size are 970x1300px. If you need your EBC in a different shape, you must let us know before you order with me.
Examples of Our Work
We don't work for Amazon, but we sell on Amazon and understand the importance of the new EBC feature. Contact us today to get in touch with an Amazon Enhanced Brand Content Designer for your products to make your product detail pages look better than your competition. Fill out the form below today, and we'll be in touch with you within 2 business days.
Fill out the form, and we'll be in touch soon!